May. 30, 2023
Hotels
Dioriviera Pop-Up at the Beverly Hills Hotel
Dior is taking over the pool at the iconic Beverly Hills Hotel this summer! In celebration of this year's Dioriviera capsule collection designed by Maria Grazie Chiuri, the upper deck has been transformed with pink and grey Dior surf-inspired cabins which frame the outside of the pop-up boutique. Dior has reimagined the interior, creating a fun sandcastle, and each corner is adorned with life-size sand giraffes, lions, flora, and fauna. In a stunning visual, sculptures shaped as the iconic Lady Dior emerge from speckled sand walls.
Pieces such as a surfboard bearing the "Christian Dior" signature, a yoga mat, parasol, and several beach games, make the perfect pairing for a beach day or relaxing by the pool. To brighten up the home, guest shoppers will enjoy a series of decorative objects, tableware, placemats, and embroidered cushions in the new signature Dioriviera colors.
In addition to the boutique, Dior has created an exclusive Le Jardin Des Rêves Dior Spa Cabana available exclusively for hotel guests to reserve daily.
This indoor-outdoor spa cabana is complete with a treatment cabin adorned in Toile de Jouy and a relaxation suite of rattan furniture complete with Dior Maison accents. Dior provides the ultimate luxury experience including a magical setting at the pool featuring a treatment program of four tailor-made signature treatments for the face and body, exclusive gifts, and more.
Hotel guests lounging near the pool will enjoy the pink and grey toile de Jouy cabanas, umbrellas, lounge chairs, and a Dior ice cream cart which will serve hourly refreshments to all guests during the weekends.
The pop-up boutique will be open daily from 9am to 6pm and is open to hotel guests and non-hotel guests alike. The Spa Cabana is open from 10am to 4pm daily and is reserved for hotel guests only. The takeover will be open from May 26th through September 4th, 2023.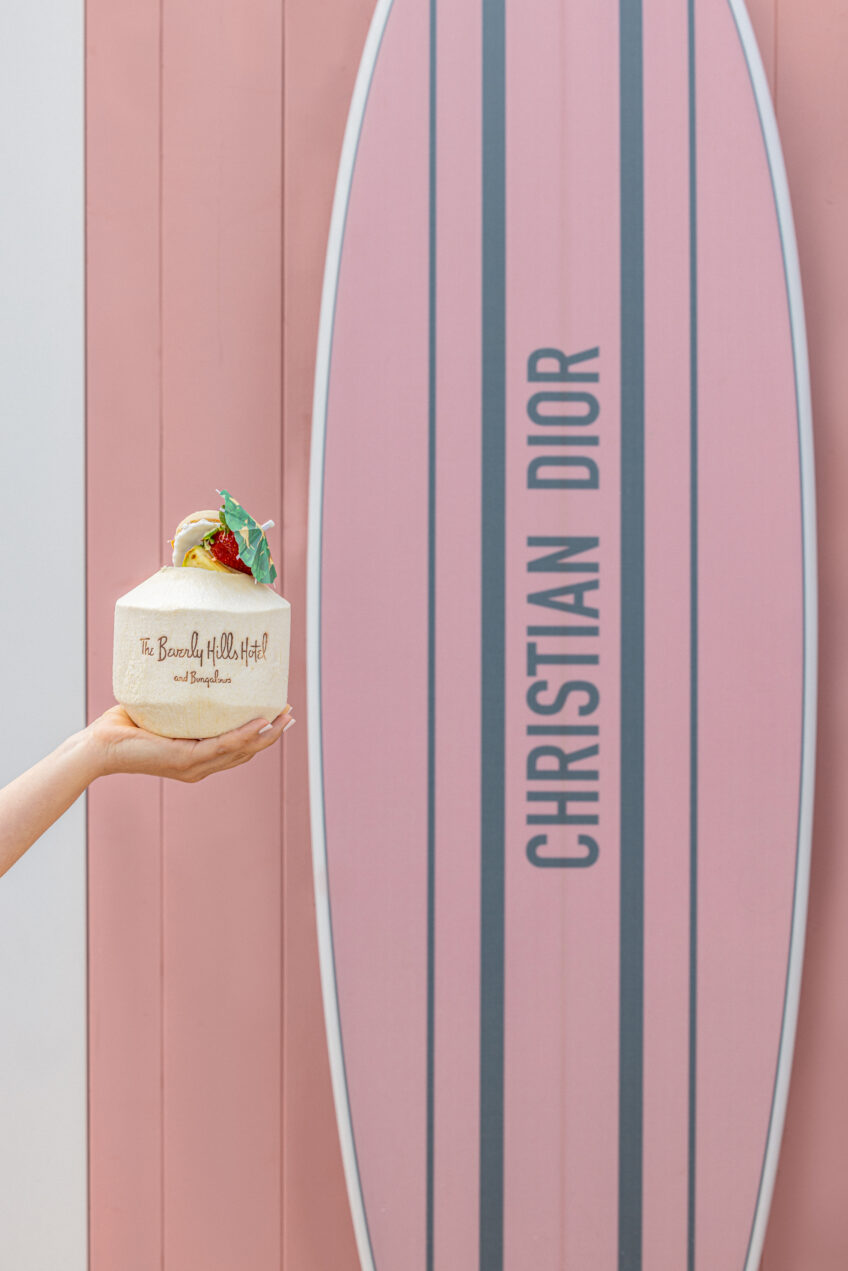 (Images provided by the Beverly Hills Hotel)