Jul. 14, 2016
Hotels
Blue Bar is Back at The Berkeley
Design lovers who love a great cocktail will be excited to know that the legendary Blue Bar at The Berkeley hotel in Knightsbridge, London, created by the late David Collins, has just reopened its doors after a six month restoration by his former design protégé Robert Angell.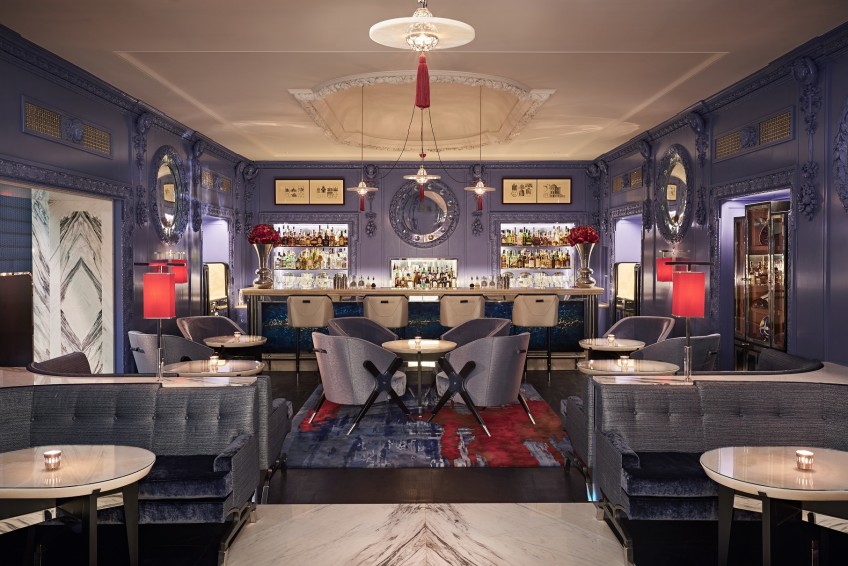 The Blue Bar is known for its distinctive signature Lutyen's blue colour and is a welcome return to London's vibrant hotel bar scene.  The bar has been stylishly restored while still paying homage to the original design. There is a dramatic new glass pavilion created by Richard Rogers, iconic wooden paneling painted in the distinctive Lutyen's Blue designed by British architect Sir Edwin Lutyen (which came from the original Berkeley hotel when it was based  in Piccadilly); and an eye-catching blue bar topped with onyx that has total wow factor set on white marble floor. Bespoke furniture in The Blue Bar has been designed by Robert Angell and hand made by custom furniture craftsmen Ben Whistler with fabrics by Irish textile designer Jude Cassidy.
The Blue Bar menu has a cool new concept called 'Cocktails with True Color'  created by mixology expert and Bar Manager, Rashid Ghuloom that plays off the use of color in the bar. The cocktails increase in potency depending on the color chosen ranging from the lighter Green section to Yellow champagne cocktails to the stronger concoctions of Red potent highballs. There is also a selection of favorites within the Blue cocktails.
Blue Bar Signature cocktails include:
Green – Lighter Concoctions
La Limonata: Clean refreshing and zest.
Blue Agave, Kaffir Lime Limoncello, Lemon Grass Sparking Water
Yellow – Champagne Cocktails
Kir Ibérico: Fruity berries, rich port and fresh sparkle.
Port Sangria, Cinnamon, Mint, Lemon, Bollinger NV Champagne
Red – Potent Highballs
The Big Smoke: Rich, smokey agave notels with a long, lingering finish.
Agave wine, Smoked Tapitio Tequilla, Lime, Aloe Vera, Acacia Mel
Blue – A favorite few
Smoke & Mirrors: indulgent with a sensory explosion of bitter, floral and oaky flavours.
Michter's Rye Barrel Strength Whiskey, Benedictine, Toasted Cinnamon, Sacred Rosehip, Herbal drops, Madeira, Sherry Blend

The Blue Bar is located at The Berkeley at Wilton Place, Knightsbridge, London.
Tel: +44 (0)20 7235 6000 info@the-berkeley.co.uk.
Tags: Blue Bar, Knightsbridge, London, London bars, London hotels, luxury hotel, The Berkeley, travel