Sep. 16, 2021
Travel
Abercrombie & Kent Reveals Top Luxury Travel Trends for 2022
Where to go next? If "anywhere!" is your answer, you'll love this travel inspiration by my friends at Abercrombie & Kent. During the slowdown of travel from the pandemic, several new trends have begun to emerge that are changing the way we think about how they want to explore the world.
      "After months of lockdown, our clients are focused on where they want to go next. They've used this pause to realize personal passions, which has, in turn, inspired their travel choices," explains Geoffrey Kent, founder of luxury travel company Abercrombie & Kent (A&K). "One of the main motivators for travel post-pandemic is spending quality time with family and friends. We saw a similar reaction after 9/11, when travelers began to value life experiences over luxury purchases, and I think we are going to see that again after this crisis."
Embracing the Outdoors
Over the past eighteen months, travellers have traded big cities for wide open spaces.
America's First National Park
Celebrate the 150th anniversary of Yellowstone, established in 1872. With more than 2 million acres of awe-inspiring landscapes, it is the iconic summer vacation, but is equally as beguiling in the wintertime. Take the entire family on Tailor Made Wyoming: Yellowstone Family Adventure (7 days; pricing on request). Explore off-the-beaten-path with a naturalist, searching for bison, wolves and more in Yellowstone's most wildlife-rich areas, Hayden Valley and Lamar Valley. But start planning now, because space filled up quickly last summer and those who missed out have already booked for next year. Or consider Tailor Made Wyoming: Winter Wildlife Safari (7 days; pricing on request), an exhilarating adventure in search of one America's most elusive predators, the endangered grey wolf.
Kenya: The Birthplace of the Modern Safari and A&K
Geoffrey Kent started A&K in 1962 with just an ice bucket and a Land Rover. To celebrate 60 years of adventure by day and luxury by night, A&K is going back to where it all began, with an anniversary safari to experience the Great Migration, one of nature's greatest spectacles. Kenya & Tanzania: A Great Migration Safari Adventure (10 days from $14,995) includes stays in luxurious boutique camps that boldly reimagine the classic safari in the Masai Mara Game Reserve, Serengeti National Park and a private concession on the Laikipia Plateau.
New for 2022 is Sanctuary Tambarare, nestled in the shadow of Mount Kenya. With just 10 luxurious tents, this peaceful haven offers views across the grassy plateau of the award-winning Ol Pejeta Conservancy, 90,000 acres of unspoilt African wilderness, where the Big Five roam, including the last two northern white rhinos on earth. Experience Sanctuary Tambarare on Kenya Safari in Style (8 days from $8,695), a Hemingway-style adventure with a modern flair that ends at the recently-rebuilt Sanctuary Olonana, a stylish contemporary lodge with floor-to-ceiling windows overlooking the Mara River.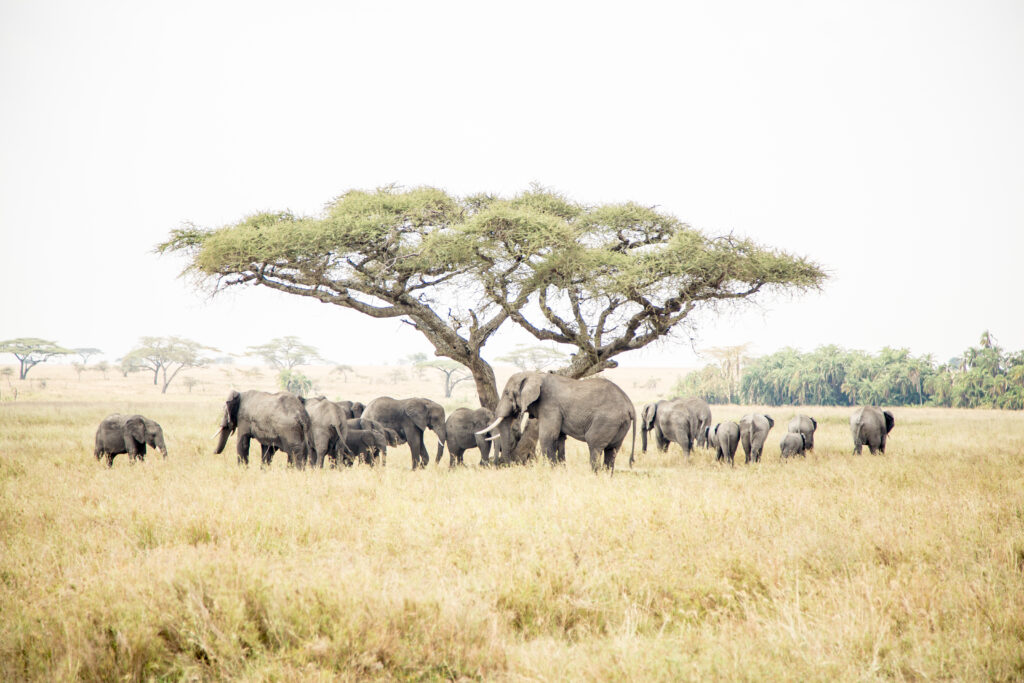 Underwater Sanctuaries
Discover some of the rarest and most pristine marine ecosystems in the world on South Pacific Voyage: Komodo, Papua & Great Barrier Reef (Nov 21-Dec 7, 2022; 17 days from $18,995). Experience rarely-visited Komodo National Park and its namesake dragons; West Papua's Triton Bay, the epicenter of the Coral Triangle; the spice islands of Maluku and Banda; and the astonishing Great Barrier Reef. Exploring alongside A&K's Expedition Team, enjoy nature walks, local village visits, Zodiac excursions, and opportunities to snorkel and scuba dive.
Winter Wonderland
Winter can be an unexpectedly rewarding time for outdoor adventures, especially in the far north. On Finland & Sweden: Adventure Across Lapland (11 days from $13,295) make the most of the season with snowmobiling, snowshoeing and ice fishing as you roam from cosmopolitan Helsinki to the wilds of Lapland, ending in elegant Stockholm. Learn the ways of the indigenous Sami people on an exclusive visit to a reindeer farm, and venture above the Arctic Circle for a sled-dog safari and a chance to search for the northern lights.
EdVenture
During the pandemic there was more time for hobbies and many took advantage of online classes. Now they are taking to the road to experience the places they learned about — and want to see in person.
Birding
Birdwatching soared in popularity with more time at home. New and long-time birders add to their "life list" on Cruising the Enchanted Isles: Scotland, Ireland & England (Aug 26-Sep 8, 2022; 14 days from $15,995). With experts on everything from puffins to plankton, A&K's Expedition Team shares knowledge gained from years of experience exploring the region. See the most important seabird breeding colonies in northwest Europe atop cliffs that provide refuge for more than 200 species, including fulmars and shags. Explore UNESCO-designated St. Kilda, home to the largest breeding colony of northern gannets in the world.
Gardening
Home gardening bloomed during the pandemic and, based on record seed sales, this new passion will flower for years to come. Celebrate the joy of spring on English Gardens & The Chelsea Flower Show (9 days from $10,495) with privileged access to private estates and gardens, as well as the world-famous Chelsea Flower Show.
Culinary
Sourdough starters and Zoom cocktail hours were quintessential quarantine pastimes. Now it's time for travellers to expand their culinary borders with food and wine tastings at the source. On Tailor Made Italy: A Foodie Adventure (10 days from $14,295) toss authentic pizzas with an expert pizzaiolo; sample Chianti at a vineyard in the Val D'Orcia; taste mortadella, ciccioli and salsiccia passata in Bologna; and tour an acetaia (vinegar producer) to marvel at the flavor of sweet, thick balsamico. Savor the cuisine of Vietnam on Tailor Made Vietnam: Farm to Fork (13 days from $7,995). Sample local street food, kayak past fishing villages in Ha Long Bay, cycle through rice paddies before a cooking lesson with a local hill tribe, and sip tea with Hoi An elders. For the ultimate wine-tasting experience, exclusively charter the 'Grand Cru' barge on the Burgundy Canal (7 days from $58,000 per charter, limited to 8 guests), savoring the region's finest wines with locally-sourced gourmet meals.
Historic Moments
100th Anniversary of the Discovery of the Tomb of Tutankhamun
In November of 1922, the world was abuzz with excitement over the discovery of the tomb of Tutankhamun by British archaeologist Howard Carter. Descend into the tomb and visit Carter's home while sailing aboard the stylish Sanctuary 'Sun Boat III'. Gaze out from between the massive paws of the Great Sphinx on a private visit. Float in a hot air balloon over the Temple of Luxor and the Avenue of the Sphinxes as the sun rises. Guests on A&K's new Pharaohs & Pyramids (13 days from $12,495) will be amongst the first to see the newly excavated Wahtye Tomb at Sakkara, discovered after 4,400 years.
'Machu Picchu and the Golden Empires of Peru'
A new travelling exhibit devoted to the ancient cultures of Peru with nearly 200 artefacts from royal tombs makes its international debut in October at the Boca Raton Museum of Art. But Machu Picchu is a place that must be experienced in person to fully appreciate the sacred site, high on a peninsula above the Urubamba River. On Peru: Machu Picchu & the Sacred Valley (8 days from $6,295), a private lecture with a renowned scholar in Incan history describes what we know about the magnificent ruins. Or take it private on Tailor Made Peru: Path of the Incas (8 days from $5,495), with an overnight at the only hotel on site, allowing extra time to photograph early in the morning and at the end of the day.
300th Anniversary of Easter Island
"There exists in the midst of the great ocean, in a region where nobody goes, a mysterious and isolated island," wrote the 19th-century French seafarer and artist Pierre Loti. The Dutch explorer Jacob Roggeveen first spied this tiny spit of volcanic rock 300 years ago on Easter Day 1722. Its nearly 1,000 statues, some almost 30 feet tall and weighing as much as 80 tons, remain an enigma, but the statue builders are far from vanished; their descendants are still making art and renewing cultural traditions. In February, join in the festivities to celebrate Rapa Nui culture on Easter Island & the Tapati Festival (8 days from $8,995).
The Next Frontiers
As travel ramps up, many are looking to go to places where few others have gone…places guaranteed to blow up on Instagram.
Saudi Arabia
A mysterious desert kingdom that has been closed to the outside world until recently, Saudi Arabia is the next go-to destination for pioneering adventure travellers. On Saudi Arabia: Desert Kingdoms (8 days from $9,895), discover the many hidden delights of this uncharted territory with ancient rock art and a slew of archaeological wonders, like Al Ula, the next Petra.
South Pole
More people have climbed Mount Everest than have been to the South Pole. It's the last true wilderness on our planet and the final place where a traveller can feel like their footprints may be the first. Emperors & the South Pole (Dec 11-22, 2022; 12 days from $250,000), is an adventure into the heart of the White Continent, with the chance to visit a colony of 6,000 emperor penguins. Walk through a natural ice tunnel, ascend a never-before-climbed summit (earning the right to name the peak) and stand at the lowest point on earth — the South Pole, where only a very few have been privileged to go.
Changing Landscapes
The impact of climate change has been evident this year with record-breaking heatwaves and flooding. Nowhere else on earth has it been more keenly felt than in the polar regions, where rising sea levels and water temperatures are inspiring a desire to see these remote landscapes — and the wildlife that depends on sea ice.
Across the Arctic
Embark on an expedition with A&K founder Geoffrey Kent through the rarely-transited Northwest Passage, from western Greenland through the Canadian Arctic to Nome, Alaska. Cruise The Northwest Passage from Greenland to the Bering Sea (Aug 23-Sep 15, 2022; 24 days from $32,995), following in the footsteps of legendary polar explorers under the wing of A&K's expert Expedition Team' including an Inuit cultural expert. Learn about the Fort Ross Hudson Bay Trading Company outpost from David Reid, who formerly worked at the station. Visit the grave sites of the crew of the Erebus with historian Russel Potter, who retraced Franklin's route. Learn about the dynamics of international relations in the Arctic from Frances Ulmer, former Lieutenant Governor of Alaska.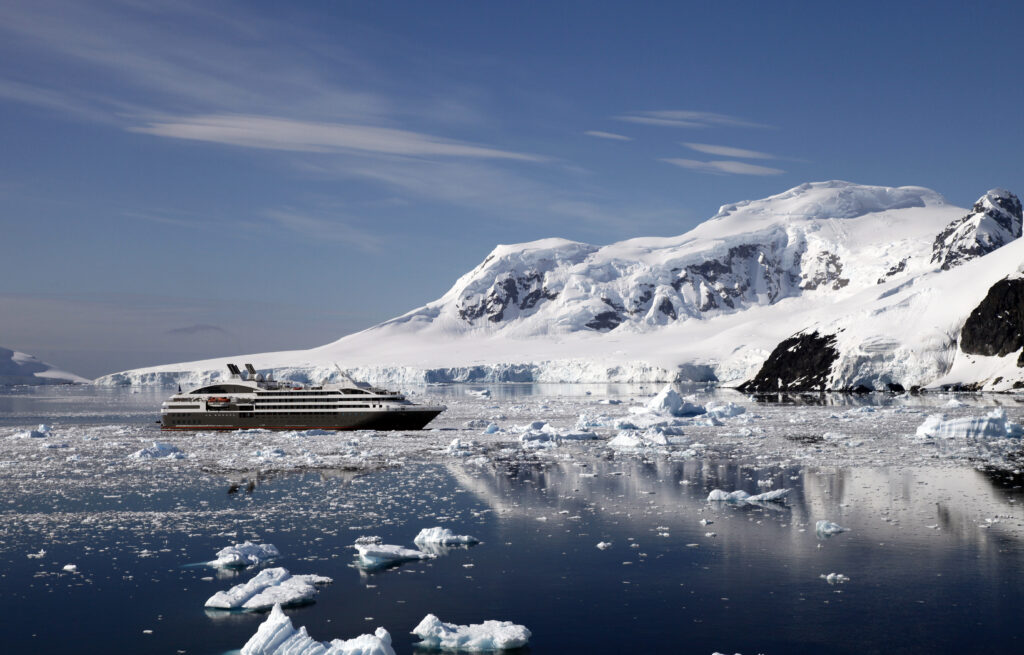 Climate Change in Antarctica
Professor James McClintock shares stories from more than 30 years of research into how climate change is affecting penguin rookeries on the Antarctic Peninsula. Antarctic Cruise Adventure: A Changing Landscape (Dec 9-21, 2022; 13 days from $12,995) is timed during the peak of austral summer, guaranteeing abundant wildlife, such as Adélie penguins, humpback whales and giant albatrosses. A&K exclusively charters one of the most environmentally-friendly ships to sail in polar waters, with cutting-edge technology that includes dynamic positioning and the most up-to-date wastewater treatment and recycling.
About Abercrombie & Kent
Abercrombie & Kent pioneered luxury adventure travel with our first African safaris in 1962, and today our award-winning travel services extend around the globe to more than one hundred countries on all seven continents. A&K's custom itineraries and small-group journeys offer one-of-a-kind inspiring experiences, while more than 55 on-site offices ensure invitation-only access to the people and places that make every destination unique. Join the world of A&K by following them on Facebook, Twitter: @AKTravel_USA and Instagram: aktravel_usa. Follow founder, Geoffrey Kent on Facebook, Instagram, and Twitter.